Concert for Budding Friends – September 23rd
Joe Skivington and Phil Bonser, both of whom have entertained at our open days in recent years brought their respective musical groups together to perform at a concert in aid of Budding Friends – the Age UK Exeter project supporting dementia sufferers (the 'budding friends' have made artwork at Studio 36 and had it exhibited at the RD&E).
Newent Scottish Singers was founded sixteen years ago by Joe Skivington. They have toured abroad performing in northern Europe. In July 2012 they sang in Gloucester Cathedral as part of the farewell visit of Archbishop Rowan Williams. That year they were selected to be part of the massed WaterAid choir on the South Bank at the closing of the London Festival and Olympic Games. In 2015 they were the Easter week choir in residence at St. David's Cathedral. In 2016 they gave a concert for a Syrian charity associated with Medecin Sans Frontiere and raised £900 supporting their local doctors and nurses.
Phil Bonser plays clarinet in the group Quorum. They were formed in 2011 when Janet Macdonald, Iain McDonald, Philip Bonser and Margaret Chave discovered how much they enjoyed making music together. Since then the group has expanded to include valued pianists Dorothy and Tony Raven.  Quorum give regular free concerts in and around the Exeter area, often supporting the work of the Exeter Foodbank by means of a retiring collection.  The group for this concert consists of Janet (Soprano), Margaret (Piano) and Phil (Clarinet).
Newent Scottish Singers and Quorum performed on September 23rd at St Stephens Church, Exeter in aid of Budding Friends.
---
Patterns at St Sidwells – October 21st
"I'm like a sort of living carpet. I need a pattern, a design, like you have on that carpet. I come apart, I unravel unless there's a design"
Extract from Oliver Sacks'  Rebecca in 'The man who mistook his wife for a hat'.
After the success of our last performance Why Not? What If? at the St Sidwells centre, we will be back, and this time exploring patterns from the various angles that shape our existence.
Alongside our regulars – James Turner – poet, Peter Farrie – songwriter and Jeff Sleeman – actor and facilitator expressing their personal experience of patterns in words, music and dance, we have Mike Ludgrove – boat builder and sailor, Amerie Rose of Encounter Theatre and Therapy, Felix May – doctor and drummer, Peter Nickol – composer and educator, Louise Clark – scientist and dancer, Clare Bryden artist, writer and singer. Photography and cordon bleu supper from staff and volunteers of St Sidwells Community Centre.
'Patterns' will take place at the St Sidwells centre on October 21st.
---
Sabine Jesse-Kniesel Exhibition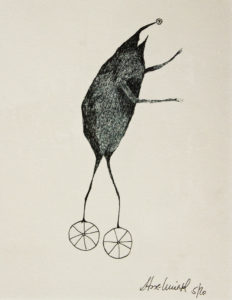 Before Studio 36 there was 'The Barn at Hay Farm', an informal gallery ran by Veronica with artists regularly invited to show imaginative and experimental work. One of those artists was Hamburg resident Sabine Jesse-Kniesel.
Many years have passed since the 'Not Botticelli' show at Hay Farm and Sabine is still living and working in Hamburg and still creating colourful and thought provoking work. After recently making contact with Sabine we are pleased to announce we will be showcasing a selection of well mounted copies of her latest drawings.
"After initially working for Axel Springer publishing house, she has been a freelance artist with an emphasis on painting, mostly with oil. She tends to paint women, and often creates cartoons of her own life. An ever-recurring theme in her work is the cycle of nature, the rhythm of art, and the history of human existence."
We are planning to have a launch event for this exhibition in Spring 2018.