6th – 14th July : 11am – 6pm daily
Events To Attend
Thursday 11th July 7pm
Where do our ideas come from?
A chance for us to explore internal landscapes, that lead onto a need to paint, write, compose, sing, dance, whatever. We will ponder the choices of subjects and sounds, colours and textures that appeal to us. Why this, not that? Why? How? What about? Who knows exactly what and why and who can tell us?! And do we really want to know?
Bring an idea!
Space limited, booking essential
Light refreshments provided if hungry bring a sandwich!
---
Wednesday 10th and Saturday 13th of July – 12:30 till 2pm
Listen With your Lunch
Dominic Garnett playing jazz, blues and classics at the piano.
Bring along your lunch.
---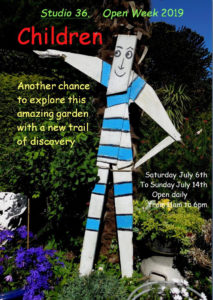 Open Daily
Children's Sculpture Trail
Mary Bramble's sculpture trail!
Come and take the challenge!
This was much enjoyed last open studio and is back by popular demand so not to miss!
Look forward to seeing you!